What Our Clients Say About Us
Package Name: Salkantay to Machu Picchu and Ausangate to Rainbow Mountain in Cusco.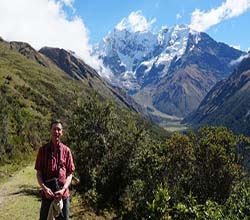 USA, 2016

In May-June 2016 I spent two weeks with Yessica Macedo of Peru Mountain Climb and it was super. I had met Yessica 8 months before while hiking in the Cordillera Blanca in Huaraz (800 mi north of Cusco) and was very impressed by her competence and attention to detail. I knew that she also had significant experience in leading hikes in the Cusco-Macchu Picchu area so I had no hesitation I asking her to be guide for two weeks. She accepted and designed a trip for me that combined trekking in the mountains (Ausungate and Salkantay), staying in a typical Peruvian town (Pitumarca), Macchu Picchu and Cusco. All these activities were distinctive and all were wonderful experiences. After landing in Cusco (elevation 11,200 ft) I checked into a comfortable quiet small hotel chosen by Yessica (noise can be quite a problem in Cusco).
There I acclimated for three days, taking day trips to the fascinating Inca ruins of Ollantaytambo, Pisac, Moray and other sites of the Sacred Valley. On the fourth day we left Cusco driving 4 hours to Ausungate, a magnificent mountain almost 21,000 feet tall. The next morning we began our trek alongside that magnificent mountain. There were lamas and alpacas galore. Almost every day we spotted Andean geese. And on the third day we spotted vicunas (very rare because of overhunting).
Early on the third day of the Ausungate trek we climbed up to the starkly beautiful "Cerro Arco Iris" (Rainbow Mountain) literally hours before the tourists from Cusco started arriving. To get to where Yessica and I were standing on Rainbow Mountain, the tourists from Cusco had to leave Cusco by 3 am, drive 3 hours to the trailhead, then walk uphill for another 3-4 hours, finally ending up at an elevation of 17,000 feet. How crazy is that? Because of Yessica's careful planning we avoided that sort of marathon. We had the mountain (the red and yellow colors of which look surreal) to ourselves for hours. After our Ausungate trek ended, we traveled to Pitumarca, a wonderful town of 3,000 people without a tourist (other than us, and Yessica is not a tourist), in sight.
Sunday morning we observed bands of young school children march around the plaza, their mothers wearing the kaleidoscopic pastel colors unique to the Andes. After spending a day resting back at the hotel in Cusco, showering and washing clothes, we left for the second trek, the Salkantay trek leading to Macchu Picchu where we spent the last day. After trekking Salkantay Yessica arranged for us to spend one day on the Inca Trail southeast of Macchu Picchu, where for hours we saw a total of 3 people. This was superb-far different from the Inca Trail experiences of those trekkers who begin the Inca Trail at Kilometer 82. Eventually one morning we bussed up to Macchu Picchu where we spent the next 8 hours. (Yessica did not want me to waste my time trekking up to Macchu Picchu amidst the roaring busses and the overwhelming dust along the narrow trail.)

My trip to Peru was very memorable and for that I have Yessica to thank.
John Braun
Package Name: Tours in Cusco, Hiking to Machu Picchu and day hikes in the Cordillera Blanca.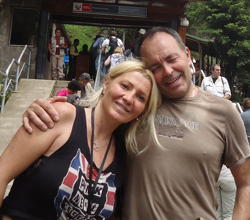 France, 2015

The trek we did on Peru with Peru Montain Climb was one of the most beautiful trek we did, we had great hotels all our days, and very comfortable, the Peruvian which very welcoming and kind, in this The transport was all perfect, drivers very friendly, and very good vehicles, especially very punctual, for our internal flight four in all super planes and good coordination with the taxi that was to wait for us.
Also in terms of food nothing to say, everything was delicious, even in treck we had outstanding cooks and not to mention our Yessica guide who is really professional both in mountain and tourism.
We recommend Peru Mountain Climb, Our trip to Peru with our guide Yessica Macedo.
We landed in Lima and a great welcome we slept close to the airport because the next day a flight was planned to Cusco, where we visited the city, his church, the next day we were at the temple of the sun, pisac, the valley sacred, then we left for a trek in the tent in the direction of mollepata to sleep at 3800 m we were able in the afternoon to climb on a beautiful lake, the next day standing early enough to go to the pass salkantay 4630m, we have despite the time spend an unforgettable time, because Yessica is very professional and everything is safe, we then went into the jungle with beautiful scenery we then took a typical train to take us to agua calientes to go see this magical city the machu picchu, amazing time.
We continue our journey on huaraz always with our little guide Yessica to make altitude lakes, churup 4450m, Llaca 4450m, 4560m ahuac, 4053m antacocha, 3700m willcacocha, lake paron 4155m, lake 69 4550m, umantaycocha 4150m the glacier pastoruri 5200 m Huaraz is a beautiful region with beautiful landscapes. We spent 25 days trekking with Yessica who is very professional, is adorable these memories will remain serious in our memories because we spent unforgettable moments.
Merci Yessica qui maintenant est devenu une amie

Nathalie and Arnaud Fonfria.

Day hike in the Cordillera Negra + Climbing Vallunaraju Mountain in the Cordillera Blanca, Peru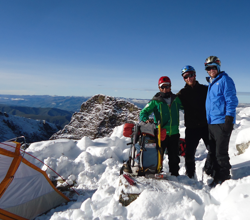 Australia-2013,

Over all it was great to be back with Peru Mountain Climb in Huaraz, Peru to do some more climbing. The organizing of the trek was very professional and always felt very safe.The guide was wonderful, very patient and very nice/kind man also is very skilled climber. The cook was really nice, he cooked really nice food. The porter was very helpful.
Thank you Yessica once again for all your help in organizing out trek/climb you're very good at your job and always help wherever you can. I look forward to coming back to Huaraz to do some more climbing with your company and thank you for our acclimatizing hike on our first day up to the Wilcacocha Lake. In fact my mountaineering trip was very good, the guide was very good at listening to what I was saying and asking. Everyone on the trip was very helpful and everyone did an amazing job.
Luke Thomas & Daniel Edwards.

Day hike to Churup Lake + Climbing Pisco & Quitaraju Mountain in the Cordillera Blanca, Peru
USA-2012,

The overall program was very well organized. The guide, cook and porters were all very professional and importantly were fun. I felt safe with Victor as a guide and his experience. I would not hesitate to recommend the team to my friends. Yessica in particular was amazing in her attention to details, coordinating hotels, transfers, showing me around Huaraz
Dr. Fred Cobey.
Day Hike to Churup Lake + Climbing Pisco & Alpamayo Mountains in the Cordillera Blanca, Peru..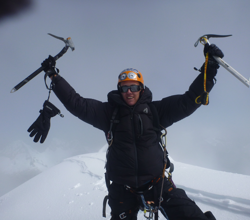 Australia-2012
Thanks for an amazing trip, Ive climbed with other organisations around the world, but Peru Mountain Climb by far stands out as the best yet. From the start you were incredibly accommodating and flexible, making up an itinerary at very short notice, and changing it no less than a week before I was scheduled to arrive. From the moment I arrived everything was taken care of, giving me a chance to relax and acclimatize before the climb. Once in the mountains the porter and cook were fantastic providing ample excellent quality food with a great variety of both local and western cuisine. All of the gear I borrowed was in good condition, and all communal gear was top quality. My guide Lucio was incredibly professional, and had a great deal of local knowledge/experience that he was always more than happy share. The price was very competitive, and the value for money was the fantastic,
I would have no hesitation in recommending Peru Mountain Climb to any of my friends or family looking to come to Peru to climb or trek, and when I come back for any climbs in the future, I will definitely organize my trip through you.
Grant Rees.

Day hikes + Climbing Urus + Ishinca + Tocllaraju + Chopicalqui Mountains in the Cordillera Blanca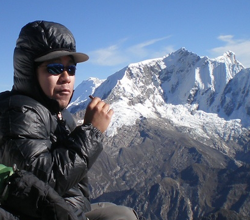 Canada, 2010

So, below is a synopsis of my experience with Peru Mountain Climb. My experience with Peru Mountain Climb was excellent. The communication was excellent for day one before we left for Canada. When we arrived in Lima, some one was there to greet us and ensure that our transfer to Huaraz went without a hitch.From Huaraz, the trips to base camp were well organized. Victor Vargas, the cook that came with us, was awesome and always smiling. He's cooking was second to none, and that's not just because we were tired and hungry at the end of the day. The trekking to base camp had either donkeys and/or porters to help us get there, but if you're feeling brave you can carry all your gear to base camp. The guides that we had were very knowledgeable and dependable. Especially for the technical portions of the climb, we really depended on them to set up the ropes and belay us as we made our ascent. Since we don't do this very often, we found it invaluable to have a guide who knows the routes and where to setup the anchors.
Overall I would recommend Peru Mountain Climb for the following reasons:
1. Flexibility within the time constraints of the trip - we had to switch guides in between and one of the original peaks (Huascaran) was closed due to frequent avalanches, but the itinerary was quickly changes to ensure that we maximize our climb while we were in Peru
2. Friendly and helpful service - I was very impressed with Yessica's work in terms of timely communication and I felt that she really had our interest in mind all the time. Not only did she ensure our climb was good, she also tried to make sure that our "downtime" was well spent as well.
3. Great guides that ensured our safety came first, they were also very knowledgeable, and generally tried to Taylor the pace to individual physical abilities.
4. Very competitively price, at about 50-75% the cost of companies based in the US. If I were to go back to Peru to climb, I would go with Peru Mountain Climb again for sure.
Thank you Yessica for a great trip!
Bill Wang

Day hikes + Climbing Urus + Ishinca + Tocllaraju + Chopicalqui Mountains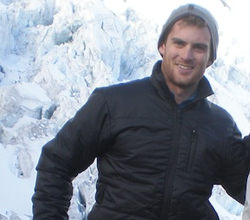 Canada-2010,

in June of 2010, myself and 2 others from Canada did an expedition with Peru Mountain Climb to Ischina, Urus, Toclarajju and Chopacalqui over 12 days. Yessica organized all the logistics. Given the short schedule did a great job. The equipment and the food provided were good. The cook was excellent. The guides were, in particular, accommodating to the varied skill levels of our climbing party, and very good skills in terms of safety and mountain knowledge. I would recommend this guiding company, especially to those who have perhaps some previous experience and want no non-sense, reliable logistics service with an authentic Peruvian flavor.
Nick Sunderland.

Day Hikes and Climbing Urus + Ishinca + Tocllaraju Mountains in the Cordillera Banca, Peru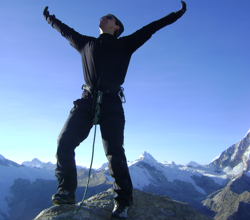 Canada-2010,

For a long time I have wanted to try mountain climbing and so when I was in Peru I finally did. I researched many different companies throughout Peru and found Peru Mountain Climb to have the cheapest price yet still stress safety. When I arrived in Huaraz I was met by Yessica and given a short briefing and then directed to a good Peruvian restaurant. The following day I met with Yessica again along with my guide to explain how my mountain climbing would go. Yessica lent me some of her equipment so has to bring my price down as well she took me on a day hike for free. The same kind of hike that another company was charging $50 my experience with Peru Mountain Climb was fantastic! The 3 mountains I climbed in the Cordillera Blanca was amazing, the food was great and my guide was knowable.
I would definitely recommend them for any experienced or non-experienced climbers such as myself.
The feeling you get when you finally reach the summit of a mountain is beyond words and Peru Mountain Climb will get you there and back.
Peter Moore.
Climbing Pisco in the Cordillera Blanca
Canada-2010,

My expedition was good and I did really enjoy it. Very good guide, staffs were very good, professional and very friendly.
John Silva.
Day hike + Trekking Santa Cruz in the Cordillera Blanca, Peru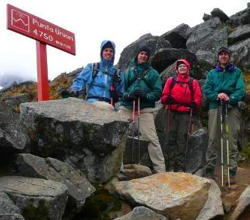 USA-2010,

Our group of four enjoyed trekking with Peru Mountain Climb EIRL from Cashapampa to Vaqueria in September. We trusted Peru Mountain Climb to make our travel arrangements to, from, and within Huaraz, and those arrangements worked out great. They arranged for our bus transportation and hotel accommodations, that both turned out well. The customer service from our guide (English speaking), cook, and donkey conducer were top Notch and they easily met all of our requests. We enjoyed the campsite cooking, lunches, and snacks that kept us going. Thank you for this experience. We were able to enjoy the hikes and views without any worries.
Jim McGinley