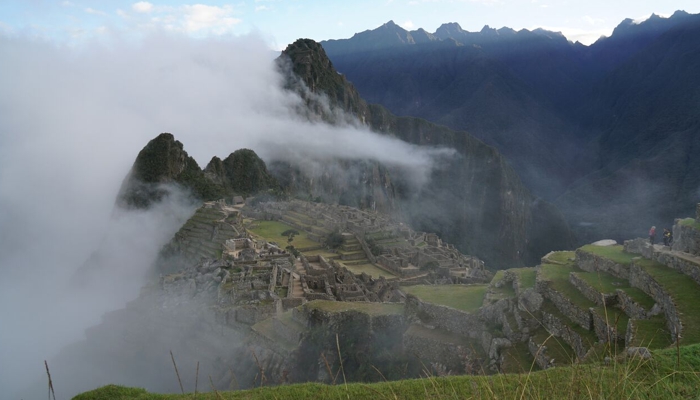 Distance: 40km+
Duration: 4-5 days
Max. Altitude: Abra Salkantay Pass 4660m
Rating: Moderate - Hard
Starting point: Soraypampa 3800m
Finishing point: Machu Picchu 2430m
Salkantay Trek is one of the most popular and beautiful trek in order to reach Machu Picchu. This route starts in the highlands Andes of Peru and ends in border of Jungle of Peru; the landscape is unique with an impressive mountain "Salkantay" and beautiful view of the jungle vegetation. Fauna of Andes and Jungle
Itinerary:
Day 01: Cusco 3400m - Umantay Lake 4100m - Soraypampa 3800m
After having breakfast in the hotel, we go by car for around 3 hours to Soraypampa passing and enjoying the beautiful view of the valley, we arrive to Soraypampa then we hike up to Umantay lake at 4,100 meters. It is below of Umantay Mountain then we go down to our first campsite which is Soraypampa and we stay overnight at 3,800 meters. (We sleep in tents).
Day 02: Soraypampa 3800m - Abra Salkantay Pass 4630m - Challway 2850m
Early breakfast in Soraypampa then we hike up to Abra Salcantay the highest point of this trek, after this pass we will enter to the jungle part of Peru, while we walk down we will enjoy more green vegetation until our next campsite Challway, we stay overnight in a tent in this campsite is warm and there are some mosquitoes.
Day 03: Challway 2850m - Hidroelectrica 1890m - Aguas Calientes 2050m
We are in the border of the jungle and we will enjoy about the green vegetation, from Challway we go by car until playa Sahuayaco in order to try Peruvian coffee and we can see coffee plant and some fruits such as, passion fruit, avocado, banana, oranges. Then we continue by car until Santa Teresa where we have lunch and visit hot Spring of Santa Teresa after that we continue on car to Hydroelectric from there we go by train to Aguas Calientes and we spend a night in a Hotel at 2,050 meters.
Day 04: Aguas Calientes 2050m - Machu Picchu 2400m - Cusco 3400m
An early breakfast at hotel, we take bus to Machu Picchu entrance, it opens at 06 o'clock, one hour guided and then we visit "Sun Gate" or hike up to "Huayna Picchu" after that you can visit around by yourself then, we return by bus to Aguas Calientes in order to have lunch and take the train to Ollantaytambo and finally transfer by car to the Hotel in Cusco.