Olleros Carhuascancha Chavin Llama Trek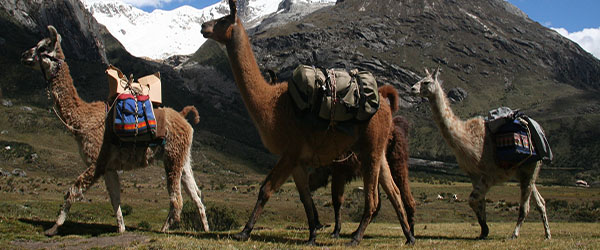 Service Class: Private Service
Group Size: 2-10
Distance: 60km+
High spot: Llamas, hills, local people, landscape, culture
Duration: 6 days- 5 nights
Rating: Hard
Starting point: Canrey Chico 3360m
Max. Altitude: Yanashallash 4700m


Finishing point: Chavin de Huantar 3137m

This route is leaded by locals a strategic alliance for sustainable community development among locals of Canrey Chico, Shongo, Jato, Yanayaku, Chucos, and Chavin; Its purpose is to offer a wider trek with mountains and cultural manifestations of the local inhabitants of the Wacheksa and Carhuascancha micro-watersheds. The llamaros and cook promote this route of adventure and culture, they are members of the Association of Auxiliaries of Mountain Sector Olleros / Chavin - ASAM. They have been strengthening the breeding of llamas in order to increase their genetic and ancestral value, as pack animal for tourism in the Huascaran National Park.

Itinerary:
Day 01: Drive from Huaraz (3100m) to Canrey Chico (3360m) hike up to Tsacracancha (3900m)

This hike takes usually from Huaraz after breakfast around 8 hrs, we drive along Santa river to the west then we take the east road to get Olleros Canrey Chico where the locals will be waiting for us with their llamas from over there we start hiking with the llamas. Along the trail, the guide will explain about traditional pilgrimage route to the archeological site Chavin de Huantar and besides you will be surrounded by amazing spot, llamas, and locals. If you like to know more about the Peruvian life experience, this destination is proper for you.

Day 02: Tsacracancha Hike up to Yanashallash pass (4700m) then hike down to Kutacorral (4200m)

We continue trekking from Tsacracancha toward Yanashallash Pass at 4700m Crossing the Pre Inca Trail between mountains and accompanied by llamas, this pre-Hispanic path and the pilgrimages of the ancient Peruvians. From Kutacorral starts detour to Carhuashkancha where we can enjoy the beautiful spot of Huantsan, the sacred Mountain of the Chavines.

Day 03: Kutacorral (4200m) hike up to Hatunquenuash pass (4600m) hike down to Huantsanpampa (4000m)

We continue trekking toward Hatunquenuash pass at (4600m) after that, we hike down along Jatunqenwash and Ichikqenhuash gullies until we get Huantsan pampa between Alhuinia and Minaruri gullies, in this place, we stay overnight at (4000m). This day we have an amazing view of Uruashraju (5735m), Rurec (5700m), Huantsan (6395m), San Juan (5843m) Chinchey (6222m) and Maparaju (5325m) mountains.

Day 04: Huantsanpampa (4000m) hike up Jitaqoq pass (4650m) then hike up to Rajuhuarushka (3950m)

We leave Huantsan Pampa and we hike along an amazing forest of quenuales toward to Jitaqoq Pass (4650m) Or Santa Rosa pass, the landscape is impressive, the view it is surrounded by Huantsan, San Juan, Yawarraju mountains and from the high point we can enjoy the amazing view of Cayesh, Maparaju, and Milpocraju mountains then we descend through the Jitaqoq valley until Rajuhuarushka at (3950m)

Day 05: Spare day at Rajuhuarushka (3950m) and visit Jatun and ichic potrero lakes sleep overnight in the same campsite

It is a spare day even though we can hike shortly to Hatun and Ichik potrero lakes or just enjoy about the varied of Andean flora in the Cordillera Blanca within Huascaran National Park, we stay overnight in the same camp.

Day 06: Rajuhuarushka (3950m)- Chavin de Huantar (3137m) - Huaraz (3100m)

We continue trekking through Carhuascancha valley toward Dos Amores bridge where the van waits for us to take us to Chavin, on our way we sight the variety of agricultural activity. Once we arrive at Chavin we visit the Archaeological site of Chavin de Huantar the National Museum of Chavin. After that, we return to Huaraz.