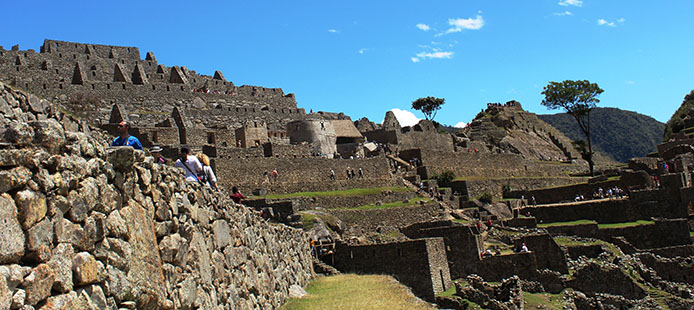 Distance: 53km+
Duration: 4 days
Max. Altitude: Warmiwanusqa Pass 4236m
Rating: Moderate - Hard
Starting point: Km82 (2800m)
Finishing point:Machu Picchu 2430m
The Inca Trail to Machu Picchu "Lost City of the Incas" is one of the most popular trekking routes in South America. It is a dream become truth because you will contact with the culture and the Peruvian history
Itinerary:
Day 01: Cusco 3100m - Piscacucho km. 82 (2800m) - Huayllabamba 3000m
The Inca trail to Machupicchu begins with the pick up of your respective hotel to our private bus, we cross the "Sacred Valley of the Incas" and we go to Piscacucho where the walk began. We had lunch in Miskay and we continued our walk to the first camp in Huayllabamba, after a guided tour of the Archaeological Group of Llactapata.
Day 02: Huayllabamba 3000m- Warmiwanusca 4236m - Pacaymayo 3600m
The day begins and the strongest part of the Inca road to Machupichu with a steep climb followed by three-hour of walking until reaching the first pass, called Warmiwanusca here you will not only enjoy panoramic and incredible views of the whole area but you will also have the satisfaction of having reached the top after a well-deserved rest, we hike down to Pacaymayo to have lunch and camp for the second time.
Day 03: Pacaymayu 3600m - Puyupatamarca 3640m - Winayhuayna 2700m
Our trek ascends to the second step at 3800m during the trek we visit the archaeological site of Runkuraqay where we again find important vestiges of the Inca Culture, we continue to Sayacmarca place we visit and have lunch, the weather change from dry and mountainous aspect to tropical green in this route is Puyupatamarca which is another important archaeological monument and we arrive at the Winaywayna campsite where we stay overnight in tents.
Day 04: Winayhuayna 2700m - Machupicchu 2430m - Cusco 3100m
One hour hiking through the woods and we reach the Inti Punku (Sun Gate), an impressive panoramic view of Machupicchu. two-hour guiding after that you can explore Machu Picchu by yourself then transfer by bus to Aguas Calientes for lunch. In the afternoon return to Ollantaytambo by train and transfer to Cusco on our tour bus.