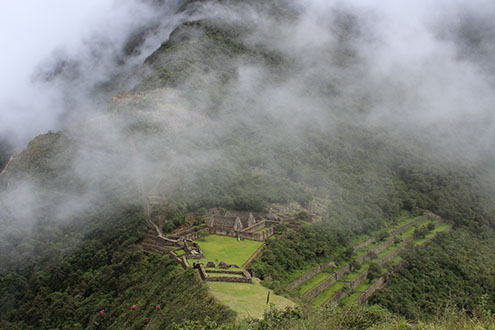 Distance: 60km+
Duration: 4-5 days
Max. Altitude: Choquequirao 3150m
Rating: Moderate - Hard
Starting point: Capuliyoc 2915m
Finishing point: Capuliyoc 2915m
Choquequirao is considered a lost city where the Incas took refuge. It is located in the Valley of Vilcabamba - The convention in the rainforest at 3300 masl. This archaeological center is considered as important as Machupicchu. This trek takes 4-5 days, we go on car 149km to Capuliyoc, where we start hiking surrounded by imposing landscapes, on the route we can also appreciate the variety of flora and fauna of the Apurimac Canyon, until arriving at the "Cradle of Gold" of the Incas "Choquequirao"
Itinerary:
Day 01: Cusco 3100m - Capuliyoc 2915m - Santa Rosa 1914m
We leave Cusco at 06:00 am we drive to Capuliyoc and we arrive at 11:00 am aproximately. there we meet the horse-driver and we start hiking along a gently sloping path surrounded by beautiful landscape of warm weather until reach Santa Rosa campsite and stayovernght in tents.
Day 02: Santa Rosa 1914m - Choquequirao 3150m - Maranpata 2850m
This is an important day becuase you will experience the amazing city of the Incas; Choquequirao, therefore it is important that we start our day in a good way with wake up tea and a nice breakfast in the campsite then we start hiking due to visit Choquequirao at 3150m and enjoy about this majestic Inca culture.
Day 03: Maranpata 2850m - Playa Rosalina 1477m- Chiquisca 1900m
After breakfast, we hike down to Playa Rosalina then start hiking up to Chiquisca campsite where we stay overnight in tents, in this campsite we can taste some local fruits such as Guanabana, orange or some season's fruit.
Day 04: Chiquisca 1900m - Capuliyoc 2915m - Cusco 3100m
Nice breakfast in Chiquisqa and we return by the same trail to Capuliyoc and from here we take the bus to return to Cusco on the way we will see exotic flora of Apurímac, we will return in the evening to Cusco.