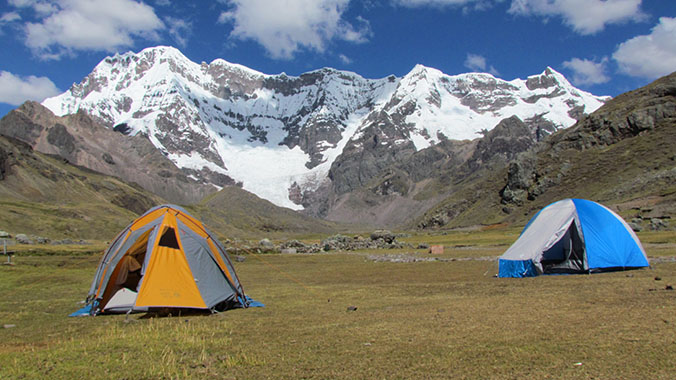 Distance: 35km+
Duration: 3-7 days
Max. Altitude: Rainbow Mountain 5100m
Rating: Hard
Starting point: Upis 4400m
Finishing point: Kayrahuiri 4630m
Ausangate to Rainbow Mountain Trek is one attractive trek in the Cordillera Vilcanota in Peruvian Andes. There are beautiful colorful lakes, wild birds, camelids such as, vicuna, alpaca and llama so during this trek you will be surrounded by mountains and you will meet local people with their own traditions and colorful dress all of that make more beautiful this trek, Rainbow Mountain is one of the incredible spots with those natural colors from the high point, you can enjoy the view of the red valley which is in the background of the Rainbow Mountain.
Itinerary:
Day 01: Cusco 3400m - Upis 4400m
After having breakfast in the hotel, we go by car for around 4 hours to Upis campsite passing some small villages each of its landscape is unique, we go until Tinki we can stop there in order to explore a bit that village, the local market is very nice local people selling their local products. Then we continue by can until Upis around there we see Alpacas and Llamas they make more beautiful the landscape, we arrive to our first campsite and then we walk until Upis Lake for an hour then go back to the campsite and stay overnight at 4, 400 meters in tents.
Day 02: Upis 4400m - Arapo Pass 4850m - Pumacocha Lake 4585m
After breakfast at Upis, we start hiking up to Arapo Pass (4,850 m). It has an amazing view of Ausangate Mountain and the colorful mountains in the background, it takes 2 hours approximately to reach it. Then, we walk down until Pumacocha, It is a big Lake there are many Andean birds like Andean geese during our trek we see Alpacas around the lakes, we arrive to the second campsite, we stay overnight at 4,585 meters and sleep in tents.
Day 03: Pumacocha Lake 4585m - Apachita Pass 4780m - Altaquri 4450m
After an early breakfast, we start hiking up to Apachita pass 4,780 meters. It takes 2 hours approximately a beautiful spot in order to enjoy the view of Ausangate Mountain and the Pumacocha lake after that we go down to the next campsite which is Altaquri during this day we have a nice view of colorful mountains mostly are red. Finally, we arrive to the third campsite and stay overnight at 4,450 meters in tents.
Day 04: Altaquri 4450m - Rainbow Mountain 5100m - K'ayrahuiri 4630m - Cusco 3400m
An early breakfast our last campsite, we start hike up to K'ayrahuiri high point then we continue until Rainbow Mountain or Quechua name Vinicunca, we hike up until the view point of Rainbow Mountain after that we visit the red valley then we walk down to K'ayrahuiri village from there we go back to the hotel in Cusco and it takes 3 hours.